Food Tour To Go

Niagara Culinary Tours presents
Niagara Food Tour To Go

At this challenging time, we were thinking of a way to support our culinary partners and other small businesses that we enjoy. We are all trying to do our part and stay in but we do have to eat. Bi-weekly we will be offering a little something different in a box (okay maybe a bag) and it will be delivered for free to your doorstep. Each Food Tour To Go will be curated by award winning Niagara Culinary Tours and will include items from our food tour partners and a few friends that we love but are a little far for us to go to on our regular walking tours but we know you will love them too.
Local food brings a sense of community and with that social connection. Through this new project we strive to bring our culinary community to you. Our bi-weekly offerings may bring a little comfort food and we hope you will discover something new in your own backyard. We are so lucky to live in Niagara where we are surrounded by spectacular food and wine in abundance. Right now we need to show our local businesses a little love so this is our way to connect us all and lessen the distance that many of are feeling.
Stay tuned for some stories from our partners talking about their passion and what makes Niagara food and living here so special!
You can send this Niagara Food Tour To Go to yourself, a friend or maybe someone who needs their day brightened
By purchasing this you will be supporting Niagara small busineeses and their families
We will endeavour to provide items as listed but please be kind because some ingredients may become unavailable and we might need to substitute. Rest assured we will include something of equivalent value and taste!
limited to 40 Food Tours To Go each date
Order deadline: Wednesday March 3 at 5:00 pm
Delivery Dates: Friday March 5, 2021 (11:00 am to 6:00 pm)
Home Delivery March 5th 2021
Price: $ 54 plus HST (Niagara to Grimsby Free delivery)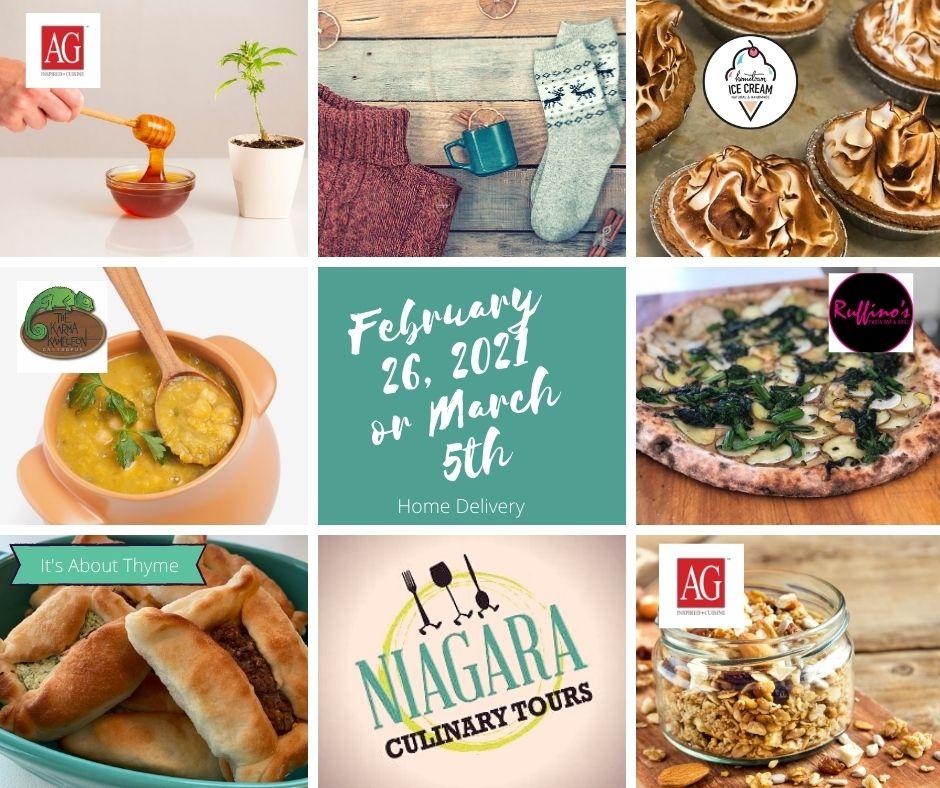 Well once again we have quite a collection of goodies for you to enjoy!
If you haven't had these yet, then you are in for a treat. Lebanese pastries called Fatayer from Sam at It's About Thyme Bistro in St Catharines. You will have 2 of each variety to try. They come in Beef, Spinach & Cheese and Zaatar and trust us it is hard to choose a favourite!
You have asked so we have brought them back. Moroccan Chick Pea Soup from Chef William Brunyansky and his team at Karma Kameleon Gastropub, Thorold. They have a great Curbside Menu and specials throughout the week to keep life interesting.
Never one to disappoint, Chef Cory Linkson and his team at AG Inspired Cuisine bring us a Hemp and Honey Dressing and House Made Granola. Try the dressing with mixed greens and cooked quinoa and roasted sweet potato for a winter salad. The granola takes breakfast to a whole new level when you add it to yogurt and fresh fruit. Curbside pickup is available and their items come complete with reheating instructions.
If you love pizza we have an artisan vegetarian pizza from Ruffino's Pasta Bar and Grill in Niagara-On-The-Lake. The Magdalena is full of flavour with rapini, preserved lemon and potato. This is tetra packed and cooked from frozen in just 8 minutes. Ruffinos has a curbside menu and a wonderful wine selection in their Supermercato.
Of course we always have to include something sweet. This Lemon Meringue mini pie from Hometown Ice Cream is just the right size to share with a friend or maybe not. They have an amazing array of baked goods and of course ice cream available to pick up.
Order Deadline: March 3 at 5:00 pm. for March 5th delivery
Delivery Info: Remember delivery is Friday from 12- 7 pm. If you won't be home just leave a cooler or directions on where to leave it.
We have had to pause our Stoney Creek, Hamilton, Burlington deliveries for now. We would be happy to arrange a parking lot pick up in Grimsby. If you are interested please contact us and we can work something out.
SNOW DAY: In case of a blizzard or ice storm we will be delivering on Saturday February 27th will be our alternate day.
Don't forget to check out our new add-on options such as coffee, bread, honey and eggs.
Don't Forget your wine!
We are pleased to offer the opportunity to order wine directly from
Pondview Estate Winery
and Burnt Ship Bay Winery to deliver with your Niagara Food Tour "To Go". Just click the link and indicate in the comments on check that the order is for pickup by Niagara Culinary Tours and we will pick it up for delivery with your NCT order. Please place your order by 4:00 pm the day prior to your Niagara Food Tour "to Go" delivery date.